A huge investment like an aircraft requires top-notch aircraft washing and aircraft detailing services to keep it looking as beautiful as the first time you bought it.
At DetailXPerts, we have developed a cleaning process specifically designed for aircrafts. It enables us to efficiently clean your aircraft in half the time, leaving it sparkling and shiny, so you can ride it with pride and glory!
Our highly-trained professionals are considered experts in the field of aircraft washing and aircraft detailing services. We understand that weather conditions can take their toll on your prized possession. We know the secrets to cleaning problem areas of an aircraft properly and safely. Say goodbye to insurance woes, because our technicians are very careful with the entire detailing process.
Our process is compliant with the standards set by the US Environmental Protection Agency. We use minimal water and organic cleaning solutions only. So, you do not have to worry about chemical runoff or water puddles which can damage the soil and groundwater.
With our detailing services, you save time, money, and effort!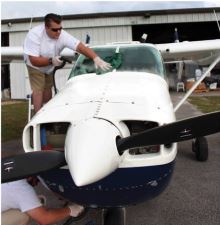 Aircraft Washing and Aircraft Detailing Services
Your top-of-the-line luxury transport deserves the best detailing service you can find. A job as big as cleaning your aircraft can only be handled by a detailing service that is big in delivering high-quality results. DetailXPerts meets your high standards in aircraft washing by using our patent-pending steam cleaning technology that is fast, effective, and eco-friendly.
The Same Premium Clean for All Sizes and Types
With years of experience, our team of expert detailers is trusted in providing a showroom finish and sanitized interiors to aircrafts of different sizes and types. There is no detailing job too big for our professionally-trained personnel equipped with the powerful steam cleaning system.
Convenient and Cost-Efficient
Our mobile aircraft services can go to where your vehicle is, so you can have it cleaned at your convenience. Our services will save you precious time and resources. How? By allowing you to allocate your time to spend the day the way you want.
Sanitized, Fresh-Smelling Interior
We clean every inch of your aircraft's interior, down to the tiny crevices in between your seats and floor mats. Our top-of-the-line cleaning technology gets rid of all harmful contaminants and bacteria lurking in the most obscure of spaces, giving your passengers a safe and healthy environment to fly in.
Unparalleled Care and Protection for Aircraft's Exterior
Not only will we clean and polish your aircraft's exterior surfaces to give it a dazzling shine, we will also get rid of paint marks, chemical damage, and signs of oxidation. We provide long-lasting protection to your aircraft so that it has a stunning beauty that lasts a long time.
Schedule an appointment with us so you can experience a whole new level of enjoyment flying in your professionally-detailed aircraft.