Franchise Business Models
Being the world's first eco-friendly steam cleaning car wash franchise, DetailXPerts has effective and proven franchise business models. We offer professional detailing services to vehicles of all types and sizes (cars, trucks, SUVs, motorcycles, boats, even airplanes and trains) using a patent-pending steam cleaning process at competitive prices. Best of all, our services have been specially developed towards actively preserving the environment.
We deliver our services from free standing auto detail shops and from mobile detailing units. Ultimate convenience, customer satisfaction, excellence in quality, and care for cars, nature, and people are paramount in everything we do.
Our 3 Franchise Business Models
Model A: Free Standing Auto Detail Shop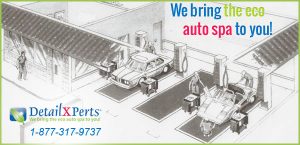 We have agreements with many parking garages around the country that allow our franchisees access to their facilities. Once in, they can offer our supreme detailing services to anyone who uses the facility.
Alternatively, they can also select to lease or build an auto detailing bay facility.
Franchisees choosing the first of our franchise business models operate only from a free standing location. In most cases, we will pre-negotiate it for them. The original franchise agreement allows them to have an unlimited number of auto detail shops within their franchise territory. Thus, they have the ability to grow at their own pace.
Model B: Mobile Detailing Unit(s)
The second of our franchise business models entails the operation of a mobile detailing unit to deliver services to customers at a time and place of their choice. Model B is more flexible and scalable than Model A. Additionally, clients appreciate the mobility and the convenience of getting services at a time and location they choose.
Model C: Free Standing Auto Detail Plus Mobile Detailing Unit

This option allows the franchisee to increase their coverage and grow their income potential by having mobile detailing units that go to the customers' places of business or residence. This is in addition to the free standing auto detail shop as described in Model A. This is the most complex of our franchise business models that calls for an experienced entrepreneur to manage it effectively. If you feel that you possess the necessary qualities and would like to learn more, click on this link.
The quality of the professional detailing services and customer care we provide to our clients are the same regardless of which of our franchise business models you select. However, the way you operate varies slightly.
If you are interested in becoming a DetailXPerts franchise owner, check out our Franchisee Advantages or visit our official franchise website to know more about our opportunity.