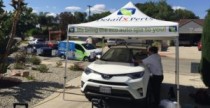 Mobile Car Wash: 5 Advantages of Using This Type of Service
To an increasing number of people in North Los Angeles, the mobile car wash has become a saving grace. It has kept their beloved possessions clean and maintained despite the worst drought in history.
More so if the mobile car wash uses steam for cleaning. Steam lifts dirt and grime from surfaces so there's no need for stiff brushes or harsh chemicals. Thus, no ugly paint swirls or scratches to mar the beauty of your prized possession. All you'll have is a vehicle that's beautiful and shiny from top to bottom – all done with a very minimal use of water.
Aside from aesthetics, what other benefits does a mobile car wash that uses steam cleaning bring?
Mobile Car Wash: 5 Benefits
1. Comfort and convenience
To busy people like you, comfort and convenience are probably the top benefits a mobile car wash service can bring. No more lining up in tunnel car washes. No more traffic. You can have it done anywhere you wish – be it at your driveway, your office, at the gym, even in the parking lot of your child's school. This will give you more time to spend with the ones you love.
2. Health
Are you aware that your car's interior is crawling with germs and bacteria that can put your health at risk? This can be prevented by steam cleaning your interior. Not only can steam reach the deepest and darkest recesses of your car – it can kill germs and bacteria upon contact.
3. Safety
A mobile car wash that also offers specialty professional detailing services can help eliminate the possibility of accidents by keeping vital areas of your vehicle as clean and functional as possible. For example, cleaning the engine with steam can help prevent engine fires; while rejuvenated headlights allow you to see the road clearly at night and also you more visible to other drivers.
4. Added durability
A service that you shouldn't miss when a mobile car wash details your car is waxing. This can protect your car's paint from the ravages of natural elements like UV rays, sand, stone chips, rain, snow, and so on.
5. Eco friendly option
Having a clean car is great, but as Angelenos, it is our social responsibility to keep the environment clean and save water. Thus, your best option is a mobile car wash that uses steam cleaning. DetailXPerts, for example, uses only a pint of water for cleaning an average-sized car and just five gallons for an entire truck. Couple this with our use of all-natural cleaning products to ensure that no chemical runoff will pollute storm drains and other sources of water. Not to mention that you won't pay a hefty penalty for cleaning your car at home.
Yes, a mobile car wash can make your vehicle clean and shiny even if there's severe drought in the area. It can also offer comfort and convenience, health and safety, added durability and eco friendly options.
Why wait in line and waste your time when you can call the experts? Schedule an appointment today.