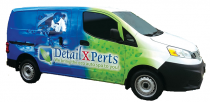 Mobile Car Wash Service in North Los Angeles: How to Choose the Best
Angelenos love cars. Statistics prove it. Our dazzling auto shows and exhibits prove it. Even our garages show it. Some of us own the most handsome vehicles this side of the globe. But maintaining the cleanliness of our cars has become quite difficult in the face of the worst drought in history. And considering the hefty fees that come with vehicle washing in our own backyards, most of us now prefer to hire a mobile car wash service.
But with an increasing number of companies offering mobile car wash service in North Los Angeles, all claiming to give you utmost convenience while they detail your car, how can you ensure that you are with the right one?
Here are five things that you should consider:
1. Personalized service
Everybody wants to have a clean car, but what wouldn't you give to make it showroom-shiny outside and fresh-smelling inside? A good mobile car wash service can provide you with specialty professional detailing like tar removal, headlight rejuvenation or air sanitation to ensure that your beloved possession gets that personalized treatment it deserves.
2. Uniformed technicians
You love your car, don't you? Naturally, you would want to leave it in the hands of uniformed technicians. Uniforms give them a sense of professionalism and expertise. They seem to tell you, "We are trained. We know how to do it right. And in the event that we don't, you can always contact our company. Here's our logo and here's our number."
3. Guaranteed quality
There are mobile car washes and there are mobile car washes. But the one you should be focusing your eyes on is the one that guarantees QUALITY services – something like "We'll do it right if you're not satisfied." How can they pull up such an act? It's because detailing shops like these are confident of what they can do – and they know they can do it right the first time around.
4. Honesty
It's true that there are car wash attendants who have been involved in stealing items from a vehicle they have been entrusted. Not when a mobile car wash service has a good recruitment process in place. Its owner screens each applicant carefully. He checks if the applicant has existing criminal records and verifies his employment history. How will you know this? You can ask neighbors, check social media or read customer reviews.
5. Eco-friendly
Experts say that the drought has never really left us, due to climate change and other factors. So it is important to look for a mobile car wash service that's not only safe and effective, but eco-friendly too. It should use a minimal amount of water and organic cleaning materials to make sure that water is used as effectively as possible and no water pollution will occur due to chemical runoff.
These are just some of the things you have to consider when searching for the best mobile car wash service. Once you find it, schedule an appointment to begin reaping the benefits that such a car wash can provide.